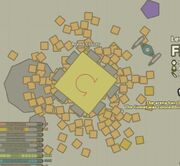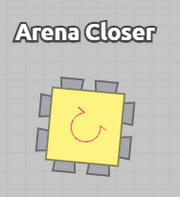 An Arena Summoner is an Arena Closer that can appear when the arena closes, it can shoot squares that instantly kill players when they contact with squares.
Design
Arena Summoner have a big yellow square body with 8 barrels (2 for each side) and the "Ω" (Omega Symbol) on the body.
Technical
Arena Summoner spawn a lot of Summoner Squares (they look like them) for each barrel but they are more faster and more powerfull than normal ones.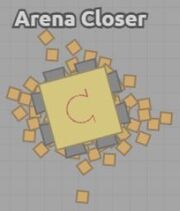 THIS IS NEW VARIANT OF THIS PAGE IF YOU INTERESTED IN OLD VERSION OF THIS PAGE CLICK Summoner Closer