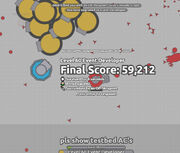 This entity is not accessible in game normally.
This page refers to content that is in the TESTBED Beta category and is only playable by beta testers and devs.

Closermind is an Arena Closer in TESTBED. It has thick borders indicating its Hivemind ability. It has 8 very fast minions, so it can kill players in a short time.