This entity is not accessible in game normally.
This page refers to content that is in the TESTBED Beta category and is only playable by beta testers and devs.
Varp is an in-game Sentry that controls up to four large drones.
Design
Varp is a strange-looking ten-sided polygon with a concavity in the back. Within that cavity there is a very large drone spawner that produces up to four large drones, slightly smaller than the Overload's drones.
Technical
Varp has the most health out of any other Sentry, even wiht its major size and health nerfs form TESTBED to in-game. Varp moves extremely slowly, as do its drones. It also has slow reload speed, making it a vulnerable target without its drones or teammates.
Spawning
Varp spawns in the pentagon nest as of 7/11/2021.
Countering
Varp is a very large entity, so using tanks with wide spread as well as high damage is smart. The drones are slow, but do not ignore them; just a single drone can kill a glass cannons tank. Try to destroy the drones; if you can destroy them fast enough, Varp will have nothing to defend itself with. Plus, considering how slow Varp's reload is, destroying its drones will leave it 100% vulnerable. However, whatever you do, always attack Varp with long ranged weapons (which shouldn't be too hard, considering this is a tank game)
Trivia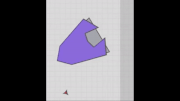 The only reason the Varp is known to exist prior to it being spawnable in the Nest is due to Developer Events.
At some time in Developer Events, The Varp could make up to 100 drones at once (it's been counted!)

At this case, Varp would be strong enough to be considered a Developer-Super-Boss.

Varp is the only thing in the game with such a shape. No other Crashers are shaped like Varp.

As a matter of fact, Varp's own drones are Triangle shaped instead of shaped like it. This is most likely due to how advanced Varp's shape is.

There was a time when Varp was somewhere around twice the size of a Mothership or Arena Closer.

This was during the time when Varp was able to spawn 100 drones at once.

Varp is the only Sentry AND Crasher to have a name with 4 letters.

Varp is also one of the only two Crashers or Sentries to have a name that's a made up word.
Save for the Collider Lite, Varp is the only Pentagon blue Sentry.
Varp was the first known TESTBED Sentry.
Varp holds the most woomy.arras.io records of any Sentry, having the records including Largest Sentry, Only-4-Letter-Name, Only name to end in P, and First TESTBED Sentry.
DIEPMON!!! SAVE THE WARPER RIGHT NOW!!!
Gallery